Having for the best part of my life been a scrub-nonbeliever myself, I nevertheless have felt the need - oddly frequently - to try a pretty and nicely smelling scrub. You know - just to see if it would win me over.
A month or so ago, the miracle did, at last, happen.
It's called
Sluscious Sugar Scrub
, contains my old time favourites cinnamon and orange, and I swear I need it sir, but I can quit!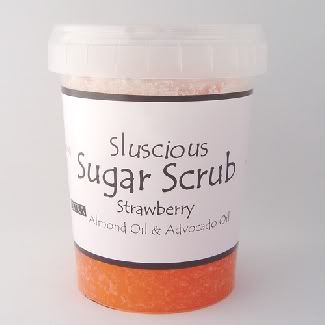 (Seen here in the Strawberry version)
Made by "native" company De Laurier, who use fresh ingredients to make fair (and awesome!) products, this is a must-have.
The fresh scent, wonderfully nutricious almond & avocado oil finish and the great price/quality ratio should transform every newbie into a firm believer.
When I first used the product, I put on my jammies (even though it was 4 in the afternoon) and spent the rest of the afternoon in a blanket on my bed, watching feel good movies. That's how good this is.
For those who are more difficult to persuade: this is actually the first product I have hooked my friend E. on, who was quoted as saying "A worthy replacement for my Lush scrub."
Coming from a Lush snob, that's a lot, as I'm sure you will all agree.
Big thumbs up!
De Laurier products are to be found in Essenza stores in Belgium and the Netherlands. I have no info on availability outside of my own region.